Ceramics / Vinyl
Vinyl flooring offers versatility and easy care and cleaning. You will find several prices, styles and colors in both sheet and tile styled vinyl flooring at A.J. Carpet & Flooring.
Easy care and cleaning

Sweep as needed and mop occasionally
No waxing, polishing or buffing required

Soft underfoot

"Gives" when you walk on it
Plates and glasses are less likely to break when they fall

Durability

Wear-resistant, so it works for kitchens and bathrooms
Vinyl sheet flooring combines dramatic, authentic-looking visuals – like slate, limestone, sisal and linen – with durability and easy maintenance.
Vinyl Floors
Ceramic Tile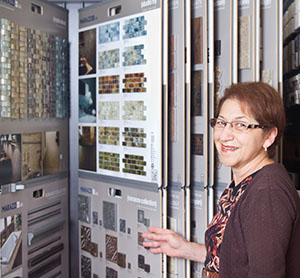 Selecting the proper type of ceramic tile for your project is probably the most important installation decision you will make.
AJ Carpet and Flooring has experienced staff to assist you in your decision.
Although there are no industry standards, most ceramic tile is rated for use by the Porcelain Enamel Institute (PEI) abrasion test. PEI ratings measure the wear resistance of the tile surface.
Class 1 - No Foot Traffic
Class 2 - Light Traffic
Class 3 - Light to Moderate Traffic
Class 4 - Moderate to Heavy Traffic
Class 5+ - Heavy to Extra Heavy Traffic
Quality Ceramic Tile products available from providers such as: